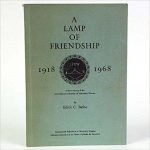 GWI fondly remembers "A Lamp of Friendship" by Edith C. Batho. Did you know that Dean Virginia Gildersleeve, Rose Sidgwick and Caroline Spurgeon suggested the idea of an international federation of women to prevent another catastrophe like World War 1?
On an autumn evening 1918, Dean Virginia Gildersleeve of Barnard College and two of her English friends Prof. Caroline Spurgeon from University of London and Miss Rose Sidgwick from the University of Birmingham, met and discussed how they could prevent another catastrophe similar to the war that had just ended. Miss Spurgeon is reporting to say, "We should have, an International Federation of University Women (IFUW)". From there the women agreed they "must rally the Association of Collegiate Alumnae", with Sidgwick suggesting, "We must go back and talk with the British Federation of  University Women".
Dean Gildersleeve believed that this was the birth of IFUW, though it had a long gestation period.
It was on 11 July 1919 that the IFUW was officially formed. The first conference was held in London in 1920. Representatives gathered from nine organized national federations of university women. Those present included the United States of America, Britain, Canada, Czechoslovakia, France, The Netherlands, Italy and Spain. As well as this, eight other delegations attended, these were Australia, Belgium, Denmark, India, Norway, South Africa and Sweden. Among the delegates were Louisa MacDonald and Mildred Muscio, representing Australia. Shortly after the conference, these delegates successfully became national associations. The second conference occurred in Paris, 1922, whereby, an Otago representative Miss Cameron also represented New Zealand.
GWI would like to thank Louise Croot, from New Zealand, and Jane Baker, from Australia, who kindly informed us of the first conversations and conferences of IFUW.