Announcement of the 2019 AFGW Fellowships
We congratulate the winners of the 2019 AFGW Fellowships, Rhiannon Neilsen, Caitlin Murphy and Joni Pini-Fitzsimmons. Our Association is proud to support the work of these early career researchers, whose work is characterised not only by its academic excellence but also by its relevance to such major contemporary concerns as the capacity of artificial intelligence to modify human behaviour; mental health; and species loss as a threat to the sustainability of natural ecosystems.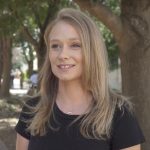 Rhiannon Neilsen, a PhD candidate in the School of Humanities and Social Sciences at the University of New South Wales (Canberra) has been awarded a Barbara Hale Fellowship for her project "Algorithms for atrocity prevention: the ethics of targeted messaging and genocide perpetrators".  Rhiannon's previous academic qualifications are in the areas of International Relations and Politics, with a focus on the protection of vulnerable groups liable to become victims of violent harm.  Her current PhD topic Re-imagining Virtue in the Virtual: Using Cyber Capabilities to Protect Vulnerable Populations from Mass Atrocity Crimes examines means by which recognised cyber capabilities could be mobilised to prevent and mitigate mass atrocities.
Her project proposes to extend this deeper into the area of moral philosophy by considering the ethics of using "computational propaganda" (deception and disinformation) as a technique to achieve this end.  As one of her referees comments "Given that western intelligence agencies are already experimenting with such tactics in counter-terrorism contexts, her research is timely and important."
The Fellowship funding will assist Rhiannon to accept an invitation to take part in the prestigious Student Visitor program at Oxford University's Department of Politics and International Relations, described by one of her assessors as "the top Politics department in the UK at present." There, through the mentorship of political philosopher Professor Cécile Fabre, whose impressive work on the ethics of ending wars and on just war theory in general, is directly relevant to the project, Rhiannon will develop her expertise in moral and political philosophy to explore this new and challenging aspect of her thesis. Rhiannon is centrally concerned with the consequences campaigns of deception waged against likely genocide perpetrators will have for a 'post-truth' world, and whether the benefits outweigh the risks/harms of spreading disinformation.
As an additional benefit, Rhiannon will be able to improve her analysis of the feasibility of her concept by strengthening her understanding of the technical capacities and political implications of cyberspace interventions through interviews with British experts involved in cyberspace security. This will add to interviews Rhiannon has already conducted with similar experts in America.
Rhiannon's academic excellence and research capacity has been recognised in the award of the UNSW Scientia Scholarship and demonstrated in a publication record of single author papers and book chapters that is unusually substantial for a PhD candidate.  Her ambition, which her referees believe she will fulfil, is to pursue postdoctoral studies as the next step in an international career in human rights.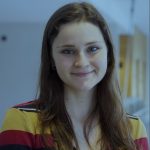 Caitlin Murphy, a PhD candidate at the University of New South Wales (UNSW) Sydney and Neuroscience Research Australia (NeuRA), has been awarded a Barbara Hale Fellowship for her project "Investigating the role of peripheral immune cell infiltration to the brain in inflammation-associated schizophrenia". The project will extend and complement her current research into the possible causes of neuro-inflammation present in 40 per cent of schizophrenia patients. It will do so by mapping the abnormal movement of circulating immune cells across the blood brain barrier in animal models, and investigating whether drugs that block such movement improve schizophrenia-like behavioural and cognitive symptoms.
Caitlin will complete the work under the supervision of renowned expert in neural-immune regulation Associate Professor Erica Sloan at Monash University, where she will develop specialised laboratory skills in immune-cell fate mapping. The Fellowship funds will enable her to travel to Melbourne to complete this vital part of her PhD.
Caitlin's referees and assessors praise her academic excellence and her research capacity, something already recognised by UNSW in 2016 when she was awarded the Paxinos-Watson Prize for achieving the highest marks in the Neuroscience Honours program, and by NeuRA when she received the 2018 Don McDonald Memorial Award for Schizophrenia Research.  "Caitlin Murphy has great potential for a future academic career and she will indeed make crucial discoveries into the biological causes and possible pharmacological treatment this debilitating psychiatric illness" says her supervisor Dr Adam Walker.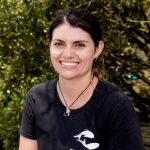 Joni Pini-Fitzsimmons, a PhD candidate at Macquarie University's Department of Biological Sciences, has been awarded the 2019 Georgina Sweet Fellowship for her project "Won't somebody think of the children? Using acoustic telemetry to identify reproductive areas for a vulnerable stingray."  This project will enable her to extend her current PhD program of research which is investigating the biology, ecology and behaviour of adult smooth stingrays, a poorly understood species that plays an important part in Australia's coastal marine ecosystems.
The Fellowship will provide funds for fieldwork in which she will attempt to remedy the current lack of knowledge as to location of an Australian breeding ground for smooth stingrays by testing her hypothesis that tidal creek systems may be important reproductive sites for the south-eastern Australian population.   This has been suggested to her by reported sightings of juvenile rays in Currambene Creek in southern New South Wales, an area already known as the habitat of adult female rays.  By using acoustic telemetry to track juveniles in Currambene Creek, she hopes to establish that the creek is the first identified nursery site in Australia for smooth stingrays.  Importantly, the creek falls within the Jervis Bay Marine Park and NSW Fisheries is collaborating with this research to ensure that it has direct applications to marine park management, including eco-tourism, both locally and nationally.
Joni's referees and assessors praise her academic excellence and research capacity, qualities also recognised by the Ecological Society of Australia, which awarded her the 2018 Holsworth Wildlife Research Endowment, and the Integrated Marine Observing System Animal Tracking Facility, Sydney Institute of Marine Science and Vemco, who are supporting her research with the supply of essential equipment and infrastructure. Referees also praise her communication skills, which have won her work a high degree of community support, and her organisational skills, which sustain her success in combining life as a wife, and one day a mother, with the determined pursuit of a long-term research career in fish behavioural ecology and conservation management.
Three applicants from among the very competitive field were Highly Commended:
Bronwyn Teece, School of Biological Earth and Environmental Sciences, University of New South Wales for her project: Structural characterisation of ancient organic matter in ~3.5 Ga drill core from the Dresser Formation, Western Australia.
Adelle Wright, Mathematical Sciences Institute, Australian National University for her project: Realising discontinuous magnetohydrodynamic equilibria.
Nicolette Armansin, Department of Biological Sciences, Macquarie University, for her project: Modelling mate choice as a mechanism to offset disease risk in a colonial marine mammal.